Tuesday, July 05, 2005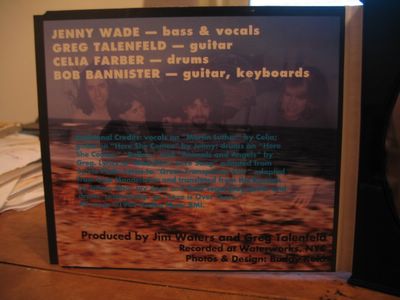 Vodka: more Jenny Wade! (Part one in a series on bands who were never sexually harassed by Bob Guccione Jr.)
So, Jenny Wade came up in a
recent piece
on the early 90's band
Timber
. Jenny is known to many as the lead singer of
Rude Buddha
(not the current Rude Buddha...an older band). A friend of mine had a crush on her, and thusly I heard their records long, long ago but I'll be damned if I can remember thing one about them. Anyone want to do a Rude Buddha piece someday?
Anyway, after that and after
Timber
, Jenny was in a band called
Vodka
who are, shall we say, underrepresented on the internet these days. Neither fantastic nor terrible, they have a handful of songs worth preserving and their full-length CD is well worth plucking from the dollar bin. Also, the family tree is interesting.
The group was made up of Jenny on bass and vocals,
Greg Talenfeld
on guitar,
Bob Bannister
on guitar and keyboards, and
Celia Farber
on drums.
Jenny is apparently essentially retired from the music biz. Greg Talenfeld would go on to be
a producer of note
. Bob Bannister is a well respected
guitar player around town
. Celia Farber is a journalist,
like her dad
.
Vodka
strike me as the sort of band who might easily have ended up working with
Kramer
. I'd locate them in the same general wing of the Museum of 90's Rock that holds
Mold
,
Lida Husik
and
Bongwater
(musically, not lyrically), among others. Whisps of psychedelia flutter around the edges of 60's-inspired but 90's-sounding well-produced guitar pop/rock. When they try to get less melodic and more jagged the going gets tough, but a handful of tracks with repetitive verses building to a semi-anthemic chorus work really well.
A song called
Christmas
from their
King Jesus
EP was either rerecorded or remastered (I'm not sure which) for their full length
She's My Dream
as
XMAS
, and it's probably the best thing they did.
I didn't like it initially, but the title track from
She's My Dream
ended up growing on me a lot. Here's
that
. I should probably insert a note here that Jenny Wade's voice is kinda unusual and quavery. I suspect it's a like-it or hate-it proposition. I like it.
Another favorite is
Martin Luther (Green & Pink & Blue)
on which Celia Farber sings. Again with the anthemic chorus. I keep thinking that Celia would have been well-suited to sing
Reflex
as well. Just a hunch.
For more of the Farber singing voice, you might want to check out her sister Bibi Farber's
website
. My favorite thing from that is this wonderful picture:
That's Bibi smiling radiantly in the center as Celia looks on from the margin. Photo taken by Ulla Farber. Some might say it explains a lot, though I personally don't subscribe to crackpot conspiracy theories.
XMAS
by Vodka
She's My Dream
by Vodka
Martin Luther (Green & Pink & Blue)
by Vodka
Reflex
by Vodka