Wednesday, March 09, 2005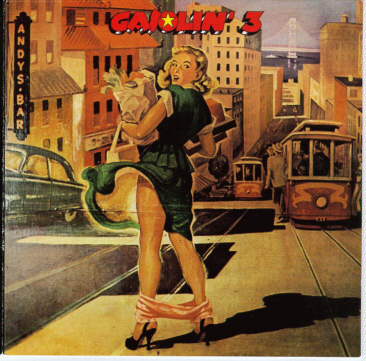 Anytime you start to think that the internet has made the world small, and that you can find info on any band, anywhere, do a google search for "Gasolin'" and then come sit with me as we ponder the fact that there doesn't seem to be a single current English language webpage devoted to this band from Denmark who made a valiant attempt to conquer America back in the 70's. I'm told that they were beyond huge in their home country and its surroundings, but I doubt that more than a good sized handful of people in the US know of them. The only reason I'm in that handful is that a truckload of their used albums mysteriously appeared in a local record store some years ago, and I was intrigued by the cover of one of them (shown above).
For an absolutely fascinating time-waster, go
here
to read about the artist behind that cover painting and his obsession with celery and malfunctioning women's underwear.
Gasolin'
managed to release a few albums in the US, but these pretty much fizzled. Limping home after a disastrous US tour, they regrouped and recorded
Efter Endnu En Dag
with the help of
Roy Thomas Baker
(all revved up after producing
Queen
's
Bohemian Rhapsody
!!). It
looks like
a generic hard rock album from the 70's, but it isn't.
After a lot of poking around and googling, I did manage to find a cached page in English (it reads like it was written by someone outside of the US) discussing the record. Rather than pretend that I'm an expert, I'm going to just reproduce it here as it's the best source of info I've found that I can read.
Gasolin' returned from the American tour a bit wiser... the tour had been a great experience for the band, but also a financial disaster. The band had a fifty-fifty deal with record company to split the touring expenses, so Gasolin' had pay about 600.000,- dkr. for their trip across the Atlantic!

So the new studio album recorded shortly before the U.S. tour had to be a success... and it was! When the band started their tour in Denmark in January 1977, the album had sold more than 130.000 copies. When Gasolin' started such a number of records was unthinkable... record companies didn't even press that many copies of any release!!

But Efter Endnu En Dag got a very rough welcome from the press, and it also managed to divide the fans... those who loved, and those who were not so keen on it. And it was a different record for Gasolin'... Roy Thomas Baker was fresh of the success with Queen's A Night At The Opera, an highly experimental, but also extremely successful record. A Night At The Opera incorporated many music styles; hard rock, soft rock, opera, music hall jazz; and Roy tried to do a similar thing with Gas 6 as the record was called by insiders with the band. Such a sound weren't really welcome in Gasolin's music, if you have to trust the reviews of the album from back then.

But Efter Endnu En Dag might still be the most well written and well played of all the Gasolin' albums. There is one or two misfires, but aside from that I find this album to be one of my favorites!!!

It opens with the excellent Pilli Villi, that is a satiric look at the left wing aka The Reds! Most people believed that Gasolin' themselves were extremely left wing, and while a lot of their sympathies probably were with that camp, they weren't closer to it, than they could have a laugh at their expenses too. Pilli Villi might be my favorite Gasolin' song.

Pilli Villi goes straight into Mamma CuCu, a strange dreamlike song in English written together with the English lyrics written for What A Lemon. It's also a very beautiful song, about a kids reaction to seeing war on TV... "was it just a movie like you said??". This is another song, that I'm very keen on!!

One of the experiments is the next song; the jazzy Bella Donna. It's not the most well conceived experiment Gasolin' ever made... the jazz music doesn't really fit with the style of the band, or with the rest of the album, by the way!

Kloden Drejer Stille Rundt is a very beautiful ballad, heavily inspired by John Barry's James Bond music. Kim has later revealed that they all were head over heals in love with the music John Barry had created for the James Bond movies, and wanted to incorporate some of that into a song of their own. And it's easy to hear... Franz lead guitar in the background keeps returning to the James Bond theme... aside from this, the song is one of the most well written and well produced songs on any Gasolin' record.

De Gule Enker is another disappointment in my opinion, but a mercifully brief one. It only lasts a minute and a half! The song is played on organ (courtesy of Mr. Jönsson), with a solo on trumpet (courtesy of Swing Jørgen, who also co-wrote Pilli Villi). Franz would play the solo at concerts, on his trusty old saxophone.

Sirenesangen is another satirical jab at modern living, about how we find material goods like cars and stereos more important than ending wars!! Heavy stuff, indeed. Sadly no official live recording of this song exists, as it was really great live, but Kim Larsen has played this from time to time recently with his current band Kjukken! And of course the song ends with a guitar noise which just continued and continued... this was done by cutting the sound into the "lift off" groove at the middle of the record, and if you didn't have an "auto lift off" record player, this sound would drive you nuts... this of course doesn't work on CD

Side 2 open with the English soft rocker Twilight Birds. The song has received a lot of flack for being too commercial and is generally hated by most fans it seems [idiots! -- Dana]. But I find it one of the best songs on the album [you're so right -- Dana]... but what do I know?? Anyway, Roy's production lifts this song above the average, and the choir pieces are brilliant.

Tantes Foto is a delightfully unpretentious experiment with reggae. The song was also a highlight at the concerts, because Søren would play the drums at the edge of the stage, instead of being partially hidden behind his enormous drum kit. See the gallery section for pictures of this!

The song features an extremely complicated chorus, of Wili, Kim and Franz singing together. It has to be heard, and must be incredible hard to pull off.

De Fem Årstider is a typical Kim Larsen song, even though the song is credited to the entire band! It is sung and played solo by Kim and Palle Mikkelborgs beautifully arranged strings and horns.

Pas På Svinget i Solrød is the albums hardest rocking song. Full-throttle hard rock (heavy metal almost) and with a satiric text about our living! The title is derived from an old Danish film called Pas På Svinget i Solby from 1940.

Stenalderjazz is a piece of neo-classical orchestra courtesy of Palle Mikkelborg. Exactly why it is placed here and the second-to-last song I have no idea, it would have made more sense to have opened the album with it, as a sort of an overture. The music played is orchestra versions of the other songs of the album in the following order: Twilight Birds, De Fem Årstider, Mamma CuCu (sounding almost like the theme from Jaws!), and Kloden Drejer Stille Rundt.

Stenalderjazz goes straight into This Is My Life the most hauntingly beautiful song I have ever heard from Gasolin'. It is a brilliant production, though the advanced sound of the CD reveals that the second verse (the one where they all sing) was recorded with a metronome ticking in the back ground... you can very clearly hear it on the CD!!

There's no guitar solo on the song, but instead Birgitte Lindhardt sings the notes of the solo. This reminds me of Pink Floyds "Great Gig In The Sky" from "Dark Side of the Moon", which was probably also what they had in mind. If memory serves me right, they also played this version of the song at the concerts, only with Franz playing the solo on his saxophone! Later Kim would re-record the song in a faster version, which would be the version played by both Gasolin' and Kim's various solo bands for years to come. But recently Kjukken have been playing the original version!

Verdict:
Despite the flaws the album is another favorite of mine:

NOTE: The album were also released in Spain, under the title "Al Cerrarse Un Nuevo Dia". All song titles on the back were printed in Spanish, but the album were the same with Danish lyrics!!
I find myself largely in agreement with this mystery reviewer. Here are my three favorite tracks from the album:
Mamma CuCu
by Gasolin'
Twilight Birds
by Gasolin' (very ELO sounding!)
This Is My Life
by Gasolin'
(You can download an mp3 of the last track, ripped from CD instead of vinyl,
here
.)
There's a great timeline of the band running to 2002 available
here
, from the same cached site that provided the above review.
I know that
Twighlight Birds
was released (at least as a promo single) in the US, but I'm not sure about anything else. If I have any readers from Denmark (or anyone who just happens to be a fan of Gasolin') it'd be wonderful if you felt like posting more info in the comments section!