Thursday, March 31, 2005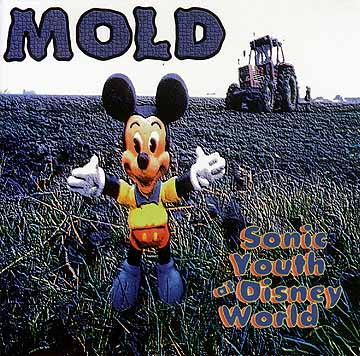 Really weird coincidences part 2: Mold
So back in 1994 a band called
Mold
released an EP called
Sonic Youth at Disney World
on the not-so-big
Funky Mushroom
label (also a home at times to
God Is My Co-Pilot
and
Azalia Snail
). The EP made
Robert Christgau
's
Best of 1994 list
. Of its four tracks, the two keepers are
the title song
(
very
funny, with a hazy glow that's periodically interrupted by hardcore outbursts, and did I say funny?) and
Bob Mould Hates Me
, the true story of an unfortunate recording session. Production was by
Kramer
, and there's a slight
Bongwater
-meets-90's-alt. feel going on.
I first heard the song
Sonic Youth at Disney World
on WFMU, and it was memorable enough that I snapped up a copy of the EP, probably in 1996 or so. To this day, I put that track on most mix CDs that I make. At some point, I found another album by
Mold
(it has a hook on the cover) but, as I recall, it wasn't funny. I haven't played it in years, but my memory is that I didn't like it, and so I didn't bother to follow up on them.
Mold
info on the internet is virtually nonexistent, so through the cracks they slipped.
A few weeks ago I was shopping at that strange record store in Park Slope on 5th Avenue near 9th street, and I found a used CD by
Mold
called
Reject
that I'd never seen before, and the price was right, so curiosity won out.
This isn't going to be one of those "Oh my god, a lost classic!" posts. But...it turns out that Mold kept their sense of humor and their talent past that first EP.
Reject
was their second release, again on Funky Mushroom. The date on the CD is 1994, though Christgau lists it as coming out in '95.
It's a pretty damn charming album. Drummer
Christy Davis
has a fantastic voice, and a way of delivering lines with a perfect mix of sexy/sweet/snotty that isn't as easy to pull off as she makes it seem. There are a lot of good noisy ideas (some Sonic Youthy, some more psychedelic) going on in the guitar department. In a perfect world, every song would be a tiny bit funnier and a tiny bit catchier and
Reject
would be a classic. Instead I'd rate
Reject
as a consistently interesting, often funny, quirky and scrappy little album. I like it. I'm rooting for it. It's grown on me (please don't make the obvious joke). It may not change your life, but you should hear it. I'll post tracks at the end of this piece.
But first, the plot thickens. I managed to google guitar player
Steve Scavuzzo
a few days ago and he and Christy agreed to answer some interview questions. In the course of this, I learned that they had played what was to be a one-off Mold reunion show just a few days earlier! Weird, right? The show went well, and they're playing again on April 1st. I hadn't planned on running this piece quite so quickly, but obviously it makes a lot of sense to post today, given that the show's tomorrow. Mold will be playing at another band's record release party, coming on shortly after 10pm at 65 Pearl Street, Brooklyn, NY (downstairs). I'm gonna try to go. A few more details are
here
.
The interview is actually very interesting, and it went like this (I sent the same questions to Christy and to Steve):
MB: I (like a lot of people, I'd guess) found out about you via the Sonic Youth At Disney World single. I never did see you live, and I'm curious about how Mold formed, who your fans were, how well known you were, where you played, etc. I know Azalia Snail and God Is My Copilot from Funky Mushroom...did bands on the label have anything to do with each other?
Christy: Mold formed out of the discontent that guitarist Steve Scavuzzo and I were having in our then current project, Barbie Complex. Steve's old band mates Chris Adam and Phil Sudo (who died of cancer in 2003), Steve, and I decided to form Mold as a sort of side project. The "side project" quickly became our main band after Steve and I decided to quit Barbie Complex and pursue Mold as a more full time endeavor. We played Brownies, Tramps (opening for Throwing Muses), Mercury Lounge, Luna Lounge, and many other NYC venues. We also traveled and played in Chicago, Boston, Philly, Pittsburgh, Jersey, Rhode Island, and Connecticut. We weren't really connected to Azalia Snail or God Is My Co-Pilot, although I know Craig from GIMCP and see him from time to time in the east village. Our fans were mainly friends with a few actual fans sprinkled in.
Steve: Mold got together while I was playing guitar in a band called Barbie Complex. Barbie Complex was more serious and while I was contributing to the writing for that band (our singer wrote all the lyrics), I wanted a project where I could write complete songs that were a little more loose and fun. After I wrote "Bob Mould Hates Me" (a true story, by the way), I decided to put together a side project called Mold (a takeoff on Bob Mould. I believe Mould is the English spelling of Mold). I got the guitarist (Phil Sudo) and bass player (Chris Adam) from an old band I was in (Half A Chicken) and the drummer from Barbie Complex (Christy Davis) and we recorded two songs. Barbie Complex was signed to Funky Mushroom at the time so I took the songs to them and they agreed to put them out. I had sent the Bob Mould song to Kramer who agreed to produce 2 more songs for us and the four songs together make up the Sonic Youth EP (the Sonic Youth song is also a true story). The band was never meant to play live but after the CD came out we decided we wanted to keep it going so we started playing some shows. Phil moved to Hawaii after the Reject CD so we got David Weintraub in to replace him. Phil eventually wrote a book called Zen Guitar, moved back to NY and died of cancer in 2003. I'm not sure if any of the bands on Funky Mushroom had any connection other then the label. We had certainly heard of and had seen those bands live but every band on the label was very different. Mold certainly started out in the typical way, playing only to friends. But over time, we played out quite a bit to the point that we were able to fill Luna Lounge or Brownies on a Saturday night and even played some festivals including one in Chicago.
MB: It seems like you weren't sure whether Mold should be a "funny" band or a serious one. The first ep sounds like it's going for a kind of a Bongwater meets early 90's alt. thing, but the recordings seem to move away from overt humor over the next two CDs. Reject seems split and the 3rd one is mostly straight (as far as I can remember). Curious about why that happened, and I'd also love to know who you felt your influences were.
Christy: I think Steve's initial intention was to convey our sense of humor in regards to the indie rock scene. So many bands in the early nineties were taking themselves too seriously. Our band, on the other hand, got a kick out of making fun of ourselves and those who took themselves too seriously. After "Sonic Youth at Disney World" was released, we were looking to expand and go into a more serious direction. After the hook CD (the second full length CD we did) we replaced Chris Adam with bassist Alan Levine and begun writing with a little bit a different approach. We started to veer towards more instrumental and experimental songs and begun implementing Moog, Theremin, Keyboards, and more effects, etc. Our third full length, "Honey Lava" was a cross between Pink Floyd, Yo La Tengo, and Throwing Muses. I'm sure there were many other influences that were subconscious. Oddly enough, after our disbanding, I came across a lot of bands that had a similar sound as Mold. Bands like Sigur Ros and Mogwai reminded me of later Mold (sans female vocals, of course.)
Steve: It was originally meant to be a humorous side project. As the band got more serious, I started to feel that most humorous songs lose their humor real quick after a few listens. I was never a big Bongwater fan but I loved Camper Van Beethoven and the Young Fresh Fellows so I always thought there was a place for Mold. After Christy and I left Barbie Complex, we wanted to devote ourselves full-time to Mold and started to take everything about it more seriously. I also ran out of funny but true stories.
MB: Who wrote the material? Any interesting unreleased Mold lurking around? The only releases I know of are the EP and the two CDs. Were there any singles, etc. that I don't know about?
Christy: Steve and I wrote all of the lyrics in the beginning and slowly, our second guitarist, David (who joined shortly after the first full length was recorded) added a song or two. Later, I pretty much wrote all the lyrics. The music was written by all of us. That's what I miss about Mold the most -- our very democratic communal writing style. It was such a great experience to see a song unfold as we worked on it. As I stated before, "Honey Lava" was never released. Unfortunately it was improperly mixed and never mastered. I think the songs on that record are our best. Recorded live in an old theatre on the lower east side, the album has a raw energetic sound. We have no way of re-mixing or mastering the material as the masters were thrown away by the now defunct studio that we mixed the record in. We have a couple other recordings that were never released.
Steve: For the first EP, I wrote everything. Reject had some contributions from Christy and Phil. The third CD (the hook CD) was more of a group effort. After the hook CD, we replaced Chris with a guy named Alan Levine and the band moved in a more Radiohead direction (circa ok computer). I was playing organ and moog in addition to guitar, the songs got longer and more pink floyd prog like. We did a number of recordings including a full length that was never released and maybe 8 other tunes that were recorded but again never released. The master tapes were lost for the full length we recorded although there are some CDRs of the album floating around.
MB: Why did the band come to an end?
Christy: In 1999, I became pregnant with my now 4 1/2 year old daughter and after Alan decided to move to North Carolina, I didn't feel like starting from scratch again and finding a new bass player. We all agreed to split. We played with Chris Adam again just the other night at Luna Lounge. It was to be a one shot deal, but we've since been asked to play two more shows. It's funny how even though we hadn't played with Chris in 10 years and hadn't played most of the songs in ten years as well (since we were on to a new repertoire in the last four or five years of our tenure) we still were able to jump right in and sound as if we just picked up where we left off. It's been a lot of fun reuniting and feeling like it's all new again.
Steve: In 2000 Alan decided to move to North Carolina (he had gotten married and couldn't afford NY any more). We all had other secondary musical projects going on at the time and we just couldn't face finding another bass player because we really liked Alan as a person as well as his playing. We still enjoyed each other's company and the music we were creating but we had been doing it for a few years and felt it was the right time for a break.
MB: What have you been doing since?
Christy: I have been playing drums with singer/songwriter Rebecca Moore for about 5 years (www.bluviolin.com). Her music is quite unique, I think. Sort of avant guard with cello, violin, guitar, bass, samples and lots of effects. Rebecca's voice is beautiful. I also play drums with a trio called Kansas State Flower. In that band, acoustic guitarist/singer Matt Roth (Schwervon!/Major Matt Mason USA), Bassist Julie Delano (The Leader) and I do a lot of harmonizing and trading vocal parts. Matt pretty much writes the lyrics and songs and Julie and I add ideas and parts as we rehearse. I really enjoy this band a lot and consider it my "main thing", but unfortunately, due to (mainly Matt's other projects) we rarely rehearse and play live. He's been on tour in Europe with Shwervon! supporting Kimya Dawson for the last 6 weeks. We started a recording a few months back and hopefully will finish it by the summer. Look for it on www.olivejuicemusic.com. Lastly, I play with Audra Tsanos and Her All Star Band doing Music For Aardvarks and Other Mammals. It's music for babies and toddlers. Cool music, mind you, not Barney-esque whiney crap. David Weinstone created Music For Aardvarks and records the CD's and we perform the songs live. We have gigs every month thru July '05. (www.audrarox.com)
Steve: I was working on the first Black Sea record when Mold broke up and David and I have been working on that project ever since. We have released 2 CD's and we are about to start on our third. David has played in and continues to play in a bunch of different bands and so does Christy. Chris hasn't done anything musical until the reunion and I don't think Alan has been doing anything either.
MB: How do you look back on Mold? In a way, you were one-hit wonders, though I guess Sonic Youth At Disney World wasn't technically a hit. Have you ever been approached about having that song included in an anthology? Is that what people tend to remember Mold for, or is that just my impression? Did you ever hear from Sonic Youth (or Bob Mould)?
Christy: I don't think "Sonic Youth at Disney World" was a hit, by any means, although it gained a smidgin of attention. With Kramer's name on the record, that helped gain some notoriety. Robert Christgau named it top 10 ep of 1994 in the Village Voice. I worked with a woman whose then husband was a very close friend of Lee Renaldo. He was given SYADW and then I subsequently saw Thurston Moore at a WFMU Record Fair and gave him a copy. He remembered it and seemed to have a good sense of humor about it. Phil was a college roommate of Bob Mould. I don't know if he got a copy of the ep to Bob or not. The song "Bob Mould Hates Me" is a true story of an encounter Steve had with Bob during a recording session with Steve, Chris and Phil's first band, "Half a Chicken." "Sonic Youth at Disney World" is also a true, yet embellished story of a time when Steve and his wife Laurie followed Sonic Youth around Disney World.
Steve: I always look back on Mold very fondly. I tend to be very critical of the bands I've been involved with and always think things could have been done a lot differently and better. Mold started off as a project that's only concern was to make fun, enjoyable music and it ended the same way. Along the way we got distracted by the desire to be successful but we took our lack of success very well and I was glad that we all remained friends at the end. Our reunion gig at luna was a lot of fun. When you no longer need to conquer the world, it removes a lot of stress and second guessing about what you are doing. After the Luna show, we were actually offered another gig in Dumbo for this Friday which we are all looking forward to as well. No one has expressed much interest in old mold, probably because the CDs were not widely distributed (Funky Mushroom never had any money). Most people that remember Mold remember the live shows and were very disappointed when we broke up. I know that Christy gave a copy of the cd to Thurston Moore and he said he liked it. A copy was sent to Bob Mould but we never heard from him. No great loss there.
Here's a healthy sampling of
Reject
, with brief comments:
Here's To The Winners
(opens the album on a hopeful note)
Burn Me
(a solid song with great singing by Christy)
What Is Fame?
("If I had a hundred bucks to see all the local bands that suck...")
We're An Alternative Band
("We're coming to your town, we're gonna sleep in a van...")
Waiting For Phoebe To Die
(Before I heard this, I assumed it would be about
Phoebe Legere
. It's actually about a very annoying and evil dog who plagued Steve. Steve had been falsly assured that the dog wasn't long for the world. Christy's delivery of the final line is really wonderful, and it's great how knowing what the song is about completely changes the way you hear the lyrics.)
Me Again
(a fairly straight, pretty and slightly psych ballad that appears twice on the album. This is the acoustic version.)
Reject
is, to an extent, tied together by a bunch of consistently worthwhile instrumental tracks, and it comes across, somewhat inadvertently, as a concept album about being a struggling little band with attitude, fighting the good fight in the 90's.
I'm working on getting ahold of some mp3s from the unreleased
Honey Lava
album. Don't have them at press time, but I may post them in an upcoming piece. I've also got to dig out my copy of the hook album and see if my opinion has changed.
Sonic Youth At Disney World
by Mold
Bob Mould Hates Me
by Mold
Wednesday, March 30, 2005
Monday, March 28, 2005
Friday, March 25, 2005
Wednesday, March 23, 2005
Tuesday, March 22, 2005
Sunday, March 20, 2005
Friday, March 18, 2005
Thursday, March 17, 2005
Tuesday, March 15, 2005
Monday, March 14, 2005
Thursday, March 10, 2005
Wednesday, March 09, 2005
Monday, March 07, 2005
Friday, March 04, 2005
Wednesday, March 02, 2005