Monday, February 21, 2005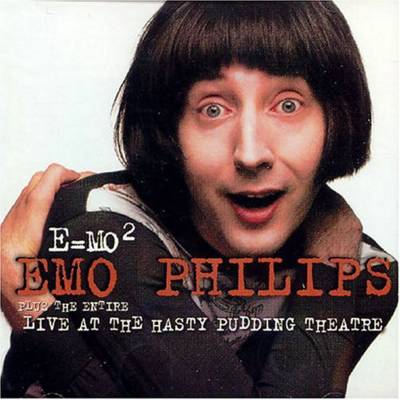 Mystical Beast gets on board with the emo thing
I was a busy bee here over the weekend, so today's post is brief.
I wonder if everyone knows that
Emo Philips'
first two albums finally came out on CD last year. He's still around, though his new material doesn't seem as sharp. MTV watchers may remember him as the creepy guy with the pageboy haircut from back in the days when comedy was popular. He looks different now, which bothers me more than it probably should.
People sometimes say that he's hard to describe, but in fact his schtick is incredibly easy to describe: shaggy dog jokes that head in one direction, then swerve, delivered in a goofy voice. The execution is often close to perfect. His debut is one of the best comedy albums I know of, and it contains my favorite recorded comedy bit:
Equustentialisma
I cannot turn on WFMU these days without hearing Jeffrey Lewis'
History Of Punk On The Lower East Side
. Go
here
to enjoy a modern classic (and to brush up on your rock history). This is required listening, btw.
Black Lipstick
(
not
The Black Lips
) released one of my favorite EP's several years ago, called
The Four Kingdoms Of Black Lipstick
, neatly combining
The Velvet Underground
,
Television
,
Pavement
, and a barrelfull of snotty slacker attitude. The following full-length
Converted Thieves
thrilled me less. They have a new album out this month called
Sincerely, Black Lipstick
, and you can download a pretty decent web-only mp3
here
and a
very
decent song from the album
here
. Pretty much everything you could want to know about the band (and a few more song samples) is
here
.
From that EP that I loved so much, here's
White Jazz
.