Monday, November 15, 2004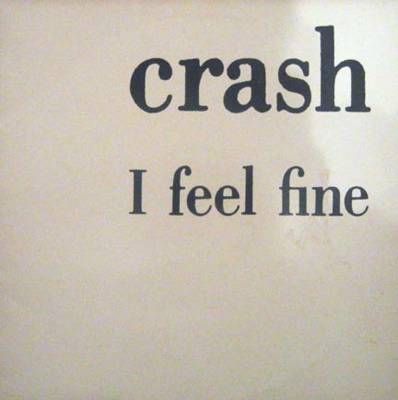 A second day on Crash
If you're just arriving, I'm going to refer you to last Friday's post which will explain why you should be interested in
Crash
.
Ok, so there
are
a couple of flys in the ointment. I think that even the most fanatic
Crash
fan is going to have to deal with two things. One (the biggest problem) is that, to be blunt,
Mark Dumais
had trouble singing on key. His bandmates knew it and anyone listening is going to know it. He apparently didn't care. Whether that's a deal breaker for you or not is up to you. It's something that bothers me and makes me want to hear his songs re-recorded, but over time I've largely adjusted to the point where I can enjoy the original tracks.
Two, it's never very hard to tell who Mark was listening to when he wrote any given song. I'm not going to lie to you and say that he never heard of the
Jesus & Mary Chain
, for example, because there's really no pretense otherwise. Again, given the fact that the J&MC spent most of their career ripping themselves off, this doesn't seem like a fatal flaw to me.
Ultimately, I think that Mark Dumais was a pretty good to great songwriter who, had he had more time, could have developed into someone who wouldn't need any apologies at all. As it is, he died without getting to do so, so we'll never know what might have happened. His last musical project,
Tangerine
, has some interesting moments though it's in an early
Creation
dance-pop mode that doesn't appeal to me as much as the Crash stuff.
Last time I wrote about the band, I mentioned that there's a real divide between side one and side two of their lp
I Feel Fine
, with side two being the point where Mark discovers the
Reid
brothers. I must not have paid quite enough attention to the details of that side, as I didn't notice what a great track
John Stood By
is until I recently got the
Everything Under The Sun
compilation, where it stands out more due to the sequencing.
Ultra Vivid Scene
fans should definitely check out the guitar work in this.
A few other favorites: here's
What I Found
, probably inspired by the J&MC's
Some Candy Talking
stuff. Here's
All I Get
, which points to a sound that Crash might have claimed as their own. Finally, here's their last single,
Bright Colored Lights
, which has been covered a few times by the sort of people you might read about in
chickfactor
.
If you're planning on going to eBay or
gemm
or such to pick up some
Crash
, be aware that while there's overlap between their vinyl-only lp
I Feel Fine
and the CD-only compilation
Everything Under The Sun
, there are worthwhile tracks exclusive to each. I'd probably recommend looking for the CD first.
One thing to look forward to:
L. D. Beghtol
, who some of you
Magnetic Fields
fans may know (he's also involved with a group called
Flare
and another called
The Moth Wranglers
) is working on some sort of a tribute to Crash. I'll post about it as soon as there's anything to post. If you're on the west coast, you might want to go to the upcoming
Moth Wranglers
record release party and beg them to do
Don't Look Now
as an encore. They're also playing in NYC on December 2 (my birthday!) but it's a late show on a work night, so I'm not sure I'll be there.